Surrounded by coral reefs, the Mackerel Islands are situated amongst some of the best fishing grounds in Australia.
With your boat conveniently moored at the islands, getting to these fishing havens is only a matter of minutes, which means less time travelling out, more time fishing!
Boat Fishing for the Biggest and Best Action at the Mackerel Islands, Western Australia
Boat fishing here is seriously among the absolute best in Western Australia.
Yep, the best.
There's genuinely an abundance and variety of sizeable 5-star fish species to be chased and all can be caught a short distance from the islands!
Quality Reef Fish
Red Emperor
Coral Trout
Rankin Cod
NW Snapper
Pelagic Action
Spanish Mackerel
Sailfish
Wahoo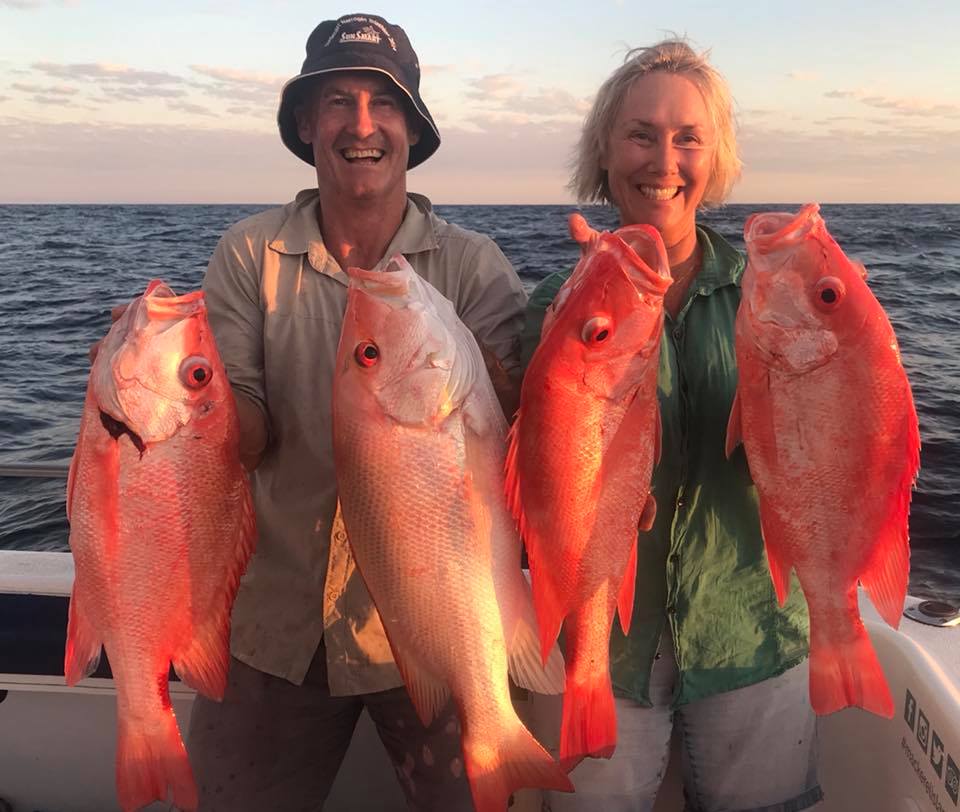 Giant Schools of Fun
Golden Trevally
Giant Trevally
Queenfish
This coveted assortment of fish suits a variety of fishing types from jigging, fly fishing, throwing soft plastics and popper fishing in anywhere from 1 – 80 metres of water.
These are specialised types of fishing that attract people from all over the world just to test their skills against nature's finest.
Read this article from Spooled Magazine's Autumn 2020 Edition.
There are new DPIRD fishing rules coming into effect on 1 July 2021 and we encourage guests to read about this. The range of fishing options around our pristine Islands allows guests to spend a week or more catching demersal and pelagic species, as well as simply fishing for fun.
Game Fishing
In the sheltered and protected waters of the islands large schools of tuna and mackerel are often seen rounding up bait fish to the surface, a perfect opportunity to cast some lures or have a troll. Trolling the drop-offs around the islands and reefs is where you will catch large Spanish mackerel, tuna, wahoo and bill fish just to name a few.
Sport Fishing
Sport fishing (catch and release) is popular, targeting species such as coral trout, giant and golden trevally, giant queenfish, yellowfin tuna and spanish mackerel, and will test even the most experienced sports fishermen and women.
The network of underwater banks and exposed reef ecosystems provide endless opportunities to discover and target new schools of fish every day.
Reef & Bottom Fishing
Red emperor, rankin cod, crimson sea perch, and a wide variety of northwest snapper can be caught while bottom fishing.
Many discussions are had as to type of bait, rigs and techniques to use to catch each species, however it is often the novice who just simply puts a line in the water that wins catch of the day!
Hire a Boat
If you don't own a boat, but want to experience Thevenard Island's marine playground for yourself, try one of our 4.6m plaka boats. The stable plaka boats are unsinkable and ideal for snorkelling, fly fishing, catching a fish for dinner or just exploring the surroundings. Comfortably seating up to 4 adults, or 2 adults and 2-3 kids, they make a great day out. All safety gear is on board, with GPS, sounder and shade awnings.
A recreational skipper's ticket or equivalent is required for all hire boats. For more information see https://www.transport.wa.gov.au/imarine/recreational-skippers-ticket.asp or the Department of Transport, WA.
Bring Your Own Boat
Thevenard Island is well equipped for boat fishers, offering 25 moorings, fuel, bait, tackle, ice, freezer storage, a shaded fish cleaning area and a radio base.
Direction Island is a private island stay with 1 boat mooring.